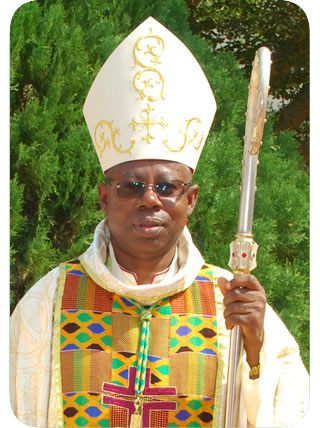 Most Reverend Peter Kwaku Atuahene
Most Reverend Peter Kwaku Atuahene was born at Brosankro in the Brong Ahafo Region on the 25th September 1956.  He is the son of Opanin Simon Atuahene-Tawiah and Margaret Ama Serwaa.
He had his Primary and Middle School education at Brosankro. He attended the Kumasi High School from 1972-1974 and completed the Ordinary Level and the Advanced Level in 1978 and 1980 respectively at the St. Hubert's Minor Seminary in Kumasi.

He entered the St. Peter's Regional Seminary, Pedu, Cape-Coast, in 1980 for his studies in Philosophy and Theology.  The late Most Rev. James Kwadwo Owusu who was the Bishop of Sunyani, ordained him a priest on 12th July 1986 at Brosankro.

After his ordination, he worked in the Our Lady of Fatima Parish at Sampa for two years as an Assistant Parish Priest, and one year at St. James Minor Seminary near Sunyani as a Spiritual Director.

He left for Duquesne University in the U.S.A. in 1989 where he obtained M.A. in Formation Spirituality and Ministry in 1991.  He returned to Ghana the same year and was appointed the Spiritual Director of St. Peter's Major Seminary from 1991 – 1997.

He was elected Bishop of the newly erected Diocese of Goaso on 24th October 1997 and was consecrated Bishop by Pope John Paul II of blessed memory in Rome on 6th January 1998.  Currently, he is the Episcopal Chairman for Vocations and Seminaries of the Ghana Catholic Bishops' Conference.  

EXPLANATION OF BISHOP'S COAT OF ARMS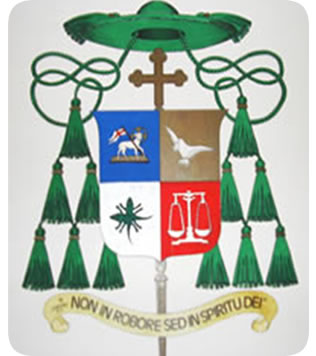 Top Left:    
A Lamb carrying a Victory Flag with a Cross in the Flag: The Lamb is not a strong animal but through the Cross it is victorious (Cf: Moto- Not by might (strength) but by the power of God. (Zach 4:6)
Top Right:        
A Dove representing the Holy Spirit: The Spirit as our Counsellor and Guide
Bottom Left:    
Two Crocodiles with one stomach: They fight for food but it goes to one  stomach so there is the need for unity.
Bottom Right:
The Scale of Justice: Justice must prevail in all our dealings.